About "di Piazza del Duomo" – B&B in Florence with Cathedral view 
Luisa and Luciano have been running the Bed and Breakfast in Piazza del Duomo for a few years and from the beginning our greatest pleasure has been to give time and passion to tourists and travellers from all over the world.
The Bed and Breakfast in Piazza del Duomo is located right in the heart of Florence, from almost every window you can admire the cathedral of Santa Maria del Fiore, the Duomo, worldwide symbol of Florence. 
Just a few steps from Santa Maria Novella station, the Bed and Breakfast in Piazza del Duomo, is an ideal place for single travellers, often chosen by women travelling alone, and for couples who want to seal their love in the romantic city of Florence.
It is located on the second floor of a historic building dating back to the 1500s, which has a lift but cannot be used, as it is for the exclusive use of the upper floors.  In Italy there are many beautiful things and many peculiar things and this is just one of them!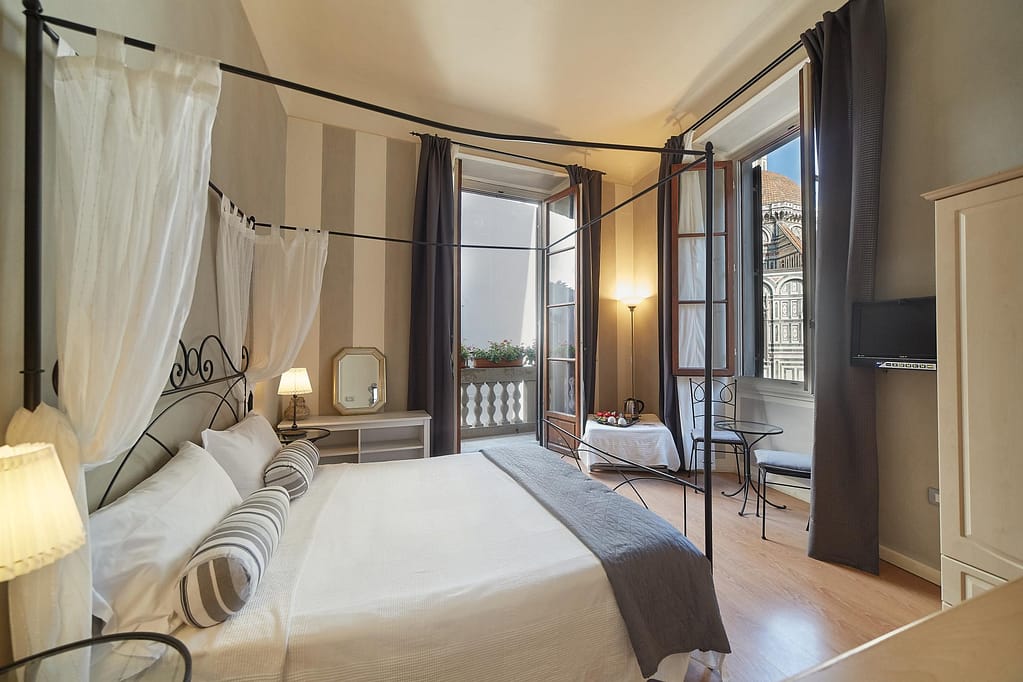 The Brunelleschi, Michelangelo, Dante, Cimabue, Da Vinci and Giotto rooms are all equipped with private bathroom with hairdryer and courtesy set, linen and towels, fan and air conditioning, wi-fi and smart TV, safe, minibar (in some rooms) and a kettle with a selection of teas, herbal teas and instant coffee. 
An additional service included is the possibility of leaving your luggage in the reception room and picking it up later.
The Bed and Breakfast in Piazza del Duomo is located in a restricted traffic zone (ZTL), access to which is only permitted in a garage.
The closest garage to the B&B is Parking Duomo in Via dell'Oriuolo, 14 tel 055/2260128 and is only 250 metres from our B&B.
Simply inform the garage staff that you are a guest at our B&B to get the special rate (30 euro per day).
An excellent, cheaper alternative (7 euro per day) is the Villa Costanza car park, which can be accessed directly from the motorway both northbound and southbound. The exit is 'Villa Costanza'. After leaving your car, take the tram (T1), which takes you directly to the centre in 20 minutes to the station stop.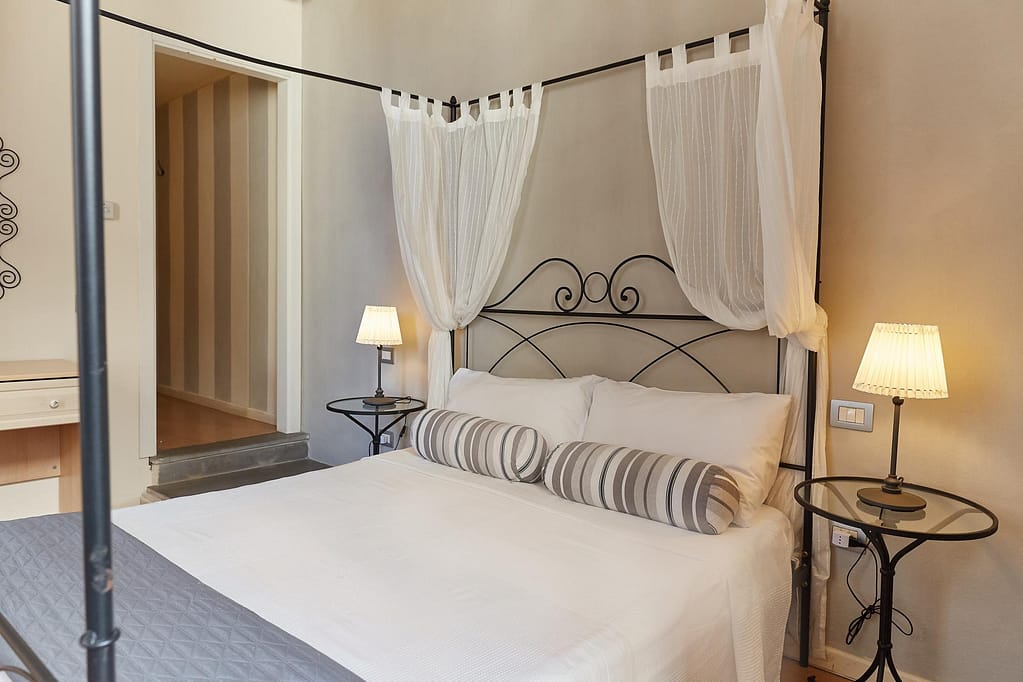 Check-in from 9:00 to 12:30
In many accommodations the check-in service is after 1:00 pm, while by us the check-in can be done from 9:00 am to 12:30 pm; those arriving at other times can easily access the room by requesting the entry codes to do a self check-in and in a second time taking care of bureaucratic matters.
During your welcome, I will be happy to give you all the information and accompany you to one of the six rooms named after the great masters who made Florence famous and incomparable throughout the world, which is why it was elected Europe's most beautiful city in 2022.
Giving time and passion
Welcoming and providing quality time is our priority and our mission. Authenticity, eagerness and the desire to share all the secrets of how to best experience Florence and its surroundings are the features of our hospitality. 
Florence is amazing, its historic centre has been included in the UNESCO World Heritage list and every corner has a story to tell. We answer daily questions like: "which Florentine restaurant would you recommend?" or "would you recommend a guide?" and we do not just recommend the best restaurant or the best guide but someone we trust.
The core of our work lies in making people feel good, giving them authentic Florentine emotions and experiences.
Take a chance and book now!
Accommodation Beyond Florence
In addition to the Bed and Breakfast di piazza del Duomo, Luciano also runs an agriturismo in the countryside: Fattoria Montalbano, 27 km from Florence and very close to the most beautiful art cities in Tuscany.
In addition to the beauty of nature and the surrounding landscape, in summer it is possible to rent beautiful flats or rooms furnished in perfect Tuscan style. The swimming pool at Fattoria Montalbano is set in a garden of olive trees.
Situated at an altitude of 400 metres, this beautiful countryside is the ideal place for those who love peace and quiet in the beauty of untouched nature.